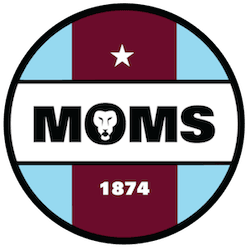 About
MOMS
My Old Man Said (MOMS) is an Aston Villa supporters blog, podcast and and supporters group. Founded by David Michael, MOMS is an affiliate member of the Football Supporters Federation (FSF) and Football Supporters Europe.
MOMS exists to represent Villa supporters and give them a rational voice when it comes to supporter issues on a club and national level.

MOMS in its believe that football should be affordable to all, activity supports the FSF's Twenty's Plenty campaign and was active in helping obtain the £30 price cap for Premier league away tickets. The common sense of safe standing is also a prime concern (we've been to the House of Commons twice to debate it), as is the need for improved club-supporter communication in football.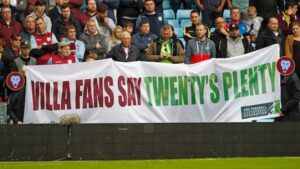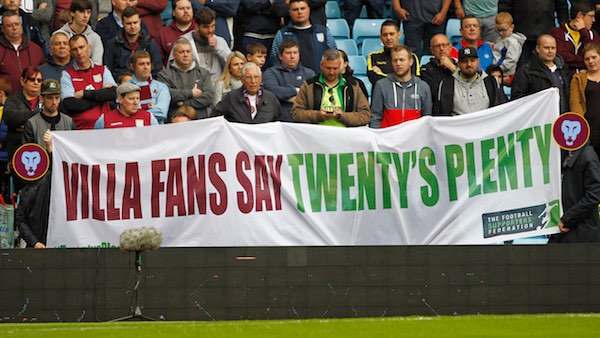 With the help of our followers and members we also created the biggest and most notorious Villa supporter flag – based on the Sex Pistol's infamous album cover design 'Never Mind the Bollocks, Here's the Sex Pistols'. The flag was banned by the FA for the 2015 FA Cup final at Wembley, to much national and international press outcry.
As a football blog, My Old Man Said with high editorial and ethical standards, and is a antidote to the typical clickbait and 'churnalism' approach of most football media.
The blog aims to entertain and inform Villa supporters (and all football fans) with original quality content and aims to get transparency in terms of how the club is run. It's also the home of Media Muppets our football media watchdog column, that calls out clickbait and such low frequency media practice. While, the A Venglos View column, takes a more satirical look at Villa life.
MOMS was the winner of the 2012 Best New Football Blog of the Year award and won the judge's award for the Best Established Football Blog of the Year 2014.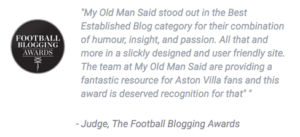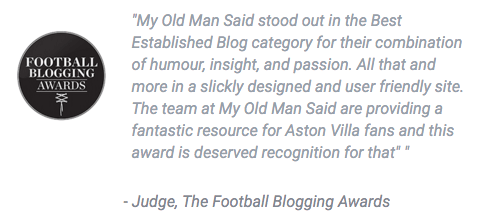 Then in the Football Supporter Federation Awards, MOMS was nominated for 'Blogger of the Year' in 2016 and 'Best Fan Media' in 2018. In 2017, the site was recognised with a global award for sporting blogging excellence.

After a regular slot on national radio on Talksport's popular Sportsbar program, where they would always mistakenly refer to My Old Man Said as being a podcast show, it was only natural there should be one created for real.
The emphasis is to put on a 'show' rather than being just another football podcast with fans waffling on. So in the mix of interviews, good natured and informed discussion, there's regular comedic sketches such as 'Twitter With Tony' and 'Jedinak's Jungle, plus recurring characters like Randy Lerner and Negatron.
Also, don't be surprised to find the podcast coming from a different era in Villa's history…due to the MOMS time machine…
MOMS been asked to cover Villa matters in national newspapers such as The Times, Daily Telegraph, Daily Mail, Independent, Sunday Mirror and also on radio, including BBC Five Live, BBC WM and Talksport, as well as contributing to the BT Sport, BBC TV and Premier League's TV channel.
For an overview of our activity see the MOMS wiki page