Last call on Aston Villa FA Cup Final Tickets
As predicted yesterday Aston Villa Final Tickets have gone on to an extra day, with tickets available to those with a 6+ booking history for the season.
It's interesting that it's come down to this low amount of matches, considering 27,000 were at Wembley and there was around 33,000 Villa fans at the Quarter-final too.
There is mooted to be around a 1000 tickets left.
I'm not sure if the final tickets will be available on-line as the website just states:
Tickets will be sold on a first come first served basis and will be available in person from the Villa Village Ticket Office or by calling the Consumer Sales Department on 0800 612 0970.
Why are there tickets still available?
Potentially the price of the final tickets are off-putting, I know I had to take a deep breath before pressing purchase on the club's website! £120, £90, £70 or £50 is no laughing matter, especially if you're a family of season ticket holders for example – it all mounts up. Also, it doesn't help when you consider there's a few thousand corporate shysters going to the final who haven't paid a dime nor support any of the two teams on show.
The good news is though, even if you just returned to watching Villa after being forced into exile by PAul Lambert, you should be able to pick up a ticket.
People who don't get a ticket can't really complain with the criteria so low. It's probably the easiest FA Cup final ticket you could get. We perhaps have to thank Lambert for that.
UTV
Follow MOMS on Twitter and Instagram
Villa Pistols!
Help wind-up Arsenal fans at Wembley (or in the pub) by ordering the MOMS 'Villa Pistols' limited edition FA Cup Final T-Shirt. The T-shirt takes its inspiration from the fact that the Sex Pistols front man Johnny Rotten is a massive Arsenal fan. So it's a bit of a Punk Rock two-fingered salute to the Arsenal, homaging the iconic design of the Pistol's 'Never Mind the Bollocks' album cover.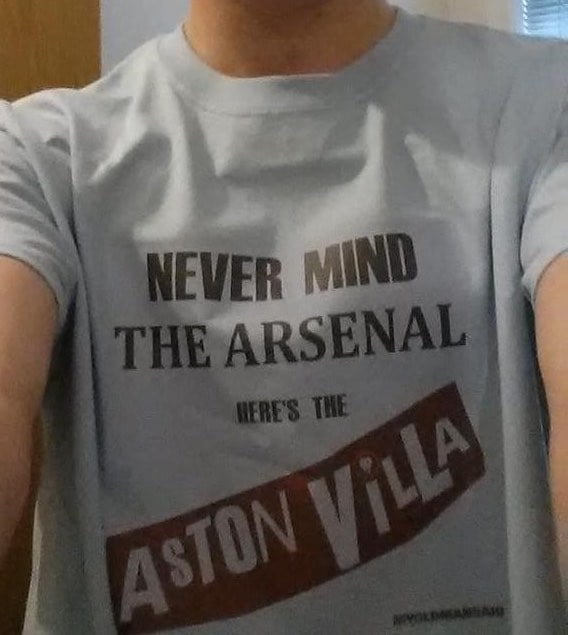 Even Arsenal-supporting Guardian/Observer writer & author Amy Lawrence loves it:

For more details on different colours and sizes for this iconic T-shirt (only £12.99), check it out in the MOMS Shop