As you'll know by now AVTV isn't showing Aston Villa's trip to FC Groningen in Holland, which means the local station will be dictating the rights to the coverage. It doesn't look like they will be hosting on YouTube like our generous friends in America, as Fox Sports in Holland have the rights to the game.
The live link on Groningen's website for the game doesn't look like it will deliver the goods, because Fox Sports in Holland who cover the Eredivise, have listed the game to screen on Fox Sports 1 over there. When you click on the Fox Sports option for FC Gronigen vs Aston Villa you are greeted with this message:
We have detected that you are accessing foxsports.nl from a territory outside The Netherlands. Due to licensing restrictions we are unable to broadcast these events in your territory. We would like to refer you to the following website.
Important heads-up
Now, if Groningen haven't done some kind of deal, the good news is because it is on a main network, that means other streams will be piggy backing off it, so in case of emergency BREAK GLASS HERE for backup link. (Also check in the comments below for other fan-suggested links).
Teams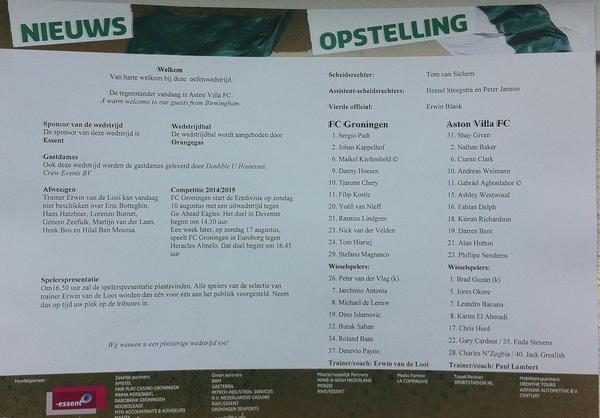 N.B. – I will be out when the game is on and unable to update, so hopefully this info will be helpful in allowing you to see the game when the time comes – 5pm Dutch time.